Vietnam & Angkor Wat
9 Days / 8 Nights Program of Hanoi, overnight Cruise in Halong Bay, Hoi An, Ho Chi Minh City and Angkor Wat.
DAY 1 Ho Chi Minh Memorial Complex, One Pillar Pagoda & Hoan Kiem Lake

On arrival at HANOI Airport (Morning flight) you will be met and transferred to Your Hanoi Hotel, where your reservation here is for tonight and includes Breakfast. We commence our sightseeing by visit to the Museum of Ethnology, which contain detailed descriptions of 54 different ethnic groups that inhabit the country, with examples of their traditional clothing and way of life. As well as the reconstructions of traditional longhouses, cemeteries and other distinctive ethnic buildings, which are located outside the museum.

From here we continue to Ho Chi Minh Memorial Complex. Visit the Ho Chi Minh Mausoleum which contains the embalmed body of Ho Chi Minh; and Ho Chi Minh's Stilt House where Ho Chi Minh lived from 1958 until his final days in 1969. Preserved in the same condition as during his life, it may be viewed through the windows.

After lunch, we visit to the miniature 11th century One Pillar Pagoda which was rebuilt after being destroyed by the French in 1954, and then to the Temple of Literature with its walled courtyards and graceful gateways. Founded in 1070 and dedicated to Confucius, this was also the site of Vietnam's first university.

We can also visit to Hoan Kiem Lake and Ngoc Son Temple, located in heart of Hanoi, which contains an islet with the tiny Tortoise Pagoda. En route back to the Hotel, we will pass by other colonial landmarks such as the magnificent Opera House (may be seen from the outside only) and St Joseph's Cathedral.

DAY 2 Halong Bay Cruise

After breakfast and check out, we transfer (by road) to your cruise in Halong Bay. On arrival at Tuan Chau Marina Port, we embark the Paradise Luxury Cruise, where your lunch is serve on boat while cruising passing by: Soi Sim beach, Coconut Three islands. In the afternoon, explore Cua Van Floating village by rowing bamboo boat with local people or kayaking by yourself (with supplement) then back to Paradise Luxury for cooking demonstration with chef to discover the traditional spring roll of Vietnamese cuisine. Dinner on board. Overnight on board.

DAY 3 Sung Sot Cave & to Danang

Cruise aboard the Paradise Luxury Cruise through Halong Bay, with possibility for an early morning Tai Chi session on the sundeck while tea, coffee and assorted pastries are being served. Relax on board or visit Sung Sot cave, for the view over the Bay. Back on board enjoy breakfast, check out and return to Tuan Chau Island. On arrival at the Tuan Chau Marina Port, you will be met again by your Guide and transfer back to Hanoi and to Hanoi Airport for your late afternoon flight to Danang.

On arrival at DANANG Airport, we transfer to Your Danang Resort, where your reservation here is for the next 2 Nights and includes Breakfast.

DAY 4 World Heritage Site of Hoi An

Today we visit to the World Heritage Site of Hoi An. The town is home to beautiful temples, pagodas and ancient homes that display a unique blend of local and foreign influences including French, Japanese and Chinese.

We commence our program with a walking tour through the narrow winding streets of the old quarter to experience the lifestyle of the local people. Pass by the sleepy river full of traditional fishing boats, ochre-hued stone houses, and shopfronts full of brightly colored silk lanterns. Along the way visit some of the most significant places including the Fujian temple, an old merchant's house, and the iconic Japanese Covered Bridge, first constructed in 1593 by the Japanese community of Hoi An to link the town with the Chinese quarters across the stream.

In the afternoon, board a local boat and cruise down the Thu Bon River, enjoying the unspoiled countryside and stopping to visit a pottery village and a woodcarving village before returning to Hoi An harbor. On completion, we transfer you back to Danang and to the Resort, where you have the rest of the afternoon, at leisure on the beach.

DAY 5 Ho Chi Minh City

After checkout, we transfer to Danang Airport for your flight to Ho Chi Minh City. On arrival at HO CHI MINH CITY Airport you will be met and transferred to Your Saigon Hotel, where your reservation here is for the next 2 Nights and includes Breakfast.

In the afternoon we commence our sightseeing by driving through the old colonial Saigon, passing by the classic European-style landmarks such as the ornate City Hall (Hotel De Ville), the old Opera House (both may only be viewed from the outside), and make a quick visit to the neo-Romanesque Notre Dame Cathedral and the Central Post Office. From here we visit to Reunification Palace - Formerly the Independence Palace of the South Vietnamese president, before continue to the War Remnants Museum, which comprehensively documents the travails of the long Vietnam- American War

DAY 6 Cu Chi Tunnels

Today we travel by a speed boat from central Saigon to Cu Chi, past tranquil countryside pastures that offer a glimpse into life along the river. On arrival we visit the Cu Chi tunnels, which stretch for over 200 km. This incredible underground network, was dug by hand out of hard laterite, connected command posts, hospitals, shelter and weapon factories. You can walk through the area and learn about the day-to-day life of the Vietcong, see the cleverly disguised entrances and elaborate booby-traps, and even venture inside the tunnels, some of which have been modified to accommodate tourists. On completion, we travel back to the city at approx. lunchtime.

After lunch, we can visit to a secret bunker-hidden in the quiet alley of central Saigon, it is a historic national site where the soldiers were hiding more than 2 tons of weapons and were preparing for the battle of the 1968 Tet offensive at the Independence Palace (now called Reunification Assembly Hall). Our final visit here is the Emperor Of Jade Pagoda, one of Saigon's most interesting pagodas.

DAY 7 Siem Reap & Angkor Wat

After checkout, we transfer to Ho Chi Minh City Airport for your flight to Siem Reap.

On arrival at SIEM REAP Airport you will be met and transferred to Your Siem Reap Hotel, where your reservation is for the next 2 Nights and includes Breakfast. Later in the afternoon, we visit the most famous of all the temples on the plain of Angkor: Angkor Wat. This architectural masterpiece was constructed in the 12th century and covers an area of about 210 hectares. We will enjoy exploring the many galleries with columns, libraries, pavilions, courtyards and ponds full of water reflecting the towering temple. Intricately carved bas-reliefs extend the length of the outer walls and corridors, depicting mythological scenes and day-to-day life at the time of Angkor's construction

DAY 8 Sunrise from Phnom Bakheng, Banteay Srei, Angkor Thom & Ta Prohm

An early Morning special: Early transfer to the archaeological site for sunrise from Phnom Bakheng, one of two hills dominating the plain of Angkor, from where you will have a spectacular view of the Western Baray and Angkor Wat. We return to the Hotel for Breakfast

Later in the Morning, we will drive beyond the main Angkor complex to visit another favorite temple amongst visitors – the enchanting Banteay Srei. It appears that the temple was designed to leave no space undecorated, and the fine carvings in pink sandstone are quite unique.

In the afternoon, we visit the ancient capital of Angkor Thom (12th century). See the South Gate with its huge statues depicting the churning of the ocean of milk, Bayon Temple, the Royal Enclosure, Phimeanakas, the Elephants Terrace and the Terrace of the Leper King. and Ta Prohm - a favorite amongst visitors because it has become part of the jungle.

DAY 9 Local Market & Departure

This morning at leisure or available for a visit to "Les Artisans d' Angkor - Chantiers Ecoles" of Siem Reap and spend time at the local market. After checkout, we transfer to Siem Reap Airport for your departing flight.
This would include:
Private Transfers, Touring, Transportation, Entrance Fees, etc. with Qualified, English-speaking Guides & Road Transportation by private air-conditioned vehicles in Vietnam on DAY 1-7
Lunch taken at Local Restaurants (or as indicated) on DAY 1-6 & 8
1 Night including Breakfast at Your Hanoi Hotel on DAY 1-2
1 Night including Lunch, Breakfast & Dinner on Paradise Luxury Cruise on DAY 2-3
2 Nights including Breakfast at Your Danang Hotel on DAY 3-5
2 Nights including Breakfast at Your Saigon Hotel on DAY 5-7
2 Nights including Breakfast at Your Siem Reap Hotel on DAY 7-9
Bottled Water, Soft Drinks & Cool Towels in Vehicles
P.A. Insurance (Local Cover) while on Tour
Domestic Air Ticket (Economy Class) for:

Hanoi>Danang DAY 3
Danang>Ho Chi Minh City DAY 5
Ho Chi Minh City>Siem Reap DAY 7
Principal Exclusions
Air Tickets (other than above)
Vietnam Visa fees & Arrangements
Cambodian Visa (Available on arrival)
Hotel "Extra" Accounts, Late Check-out Arrangements, etc.
Gratuities (Guides, Drivers, Porters, etc.)
Other Meals Items & Services not indicated in the program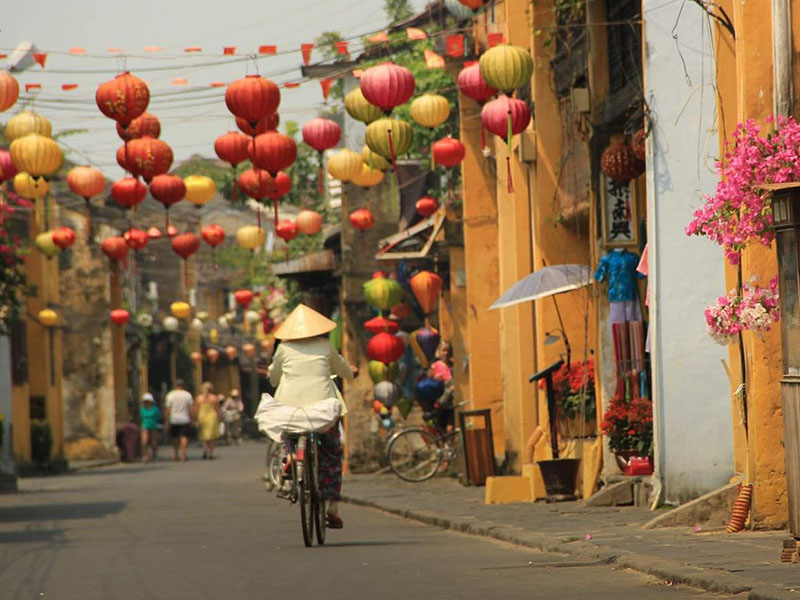 This is the EXAMPLE of the type of Private Program that we can offer – While this can be booked directly as it is, it could also be used as Guideline to help you prepare an individual Program that we can arrange and finalize for you.

Please remember, the very nature of these private trips makes them quite flexible and wherever possible we do try to cater directly to your interests.

Specific costs will vary dependent on Dates of Travel, International Arrival & Departure Flight Times, Number of Clients in the Party, Availability of Hotel Accommodation & Room Category, etc.